Soundproof
Rhombus Records RHO 7102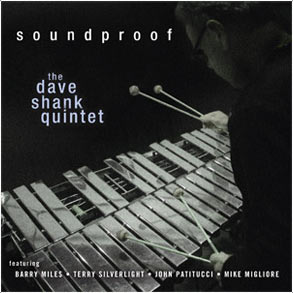 Dave Shank - vibraphone
Mike Migliore - saxophones
Barry Miles - piano
John Patitucci - bass
Terry Silverlight - drums

About Dave Shank
Dave's career began in Las Vegas. After serving in the Armed Forces, he obtained a Bachelor of Arts Degree in Theory and Composition at the University of Nevada. He apprenticed playing headline acts on the Las Vegas Strip and performed with local jazz groups.
In Los Angeles, when not doing sessions for Mike Post, Quincy Jones, Don Piestrup and others, or playing acts like Frank Sinatra, Dionne Warwick, Linda Ronstadt, Bette Midler and Luther Vandross, to name a few, he performed percussion duties on many Broadway shows. He could also be heard with the Dennis Dreith, Curt Berg, and Kim Richmond bands, but most prominently with Tim Weston's jazz quintet, Wishful Thinking.
He played vibraphone and composed as a principal contributor on four recording projects: Wishful Thinking and Think Again for Pausa Records; Way Down West for Pat Williams' label, Soundwings; and That Was Then for Intima, the jazz division of EMI Records.

Now Playing: David Matthews & Friends with Dave Shank
News & Appearances
Dave Shank's Soundproof receives great review in JazzTimes

If further proof were needed that purism among jazz musicians is a thing of the past, this lineup should seal the argument. Vibraphonist Dave Shank and his colleagues -- saxophonist Mike Migliore, pianist Barry Miles, bassist John Patitucci and drummer Terry Silverlight -- have worked with everyone from Maynard Ferguson and the Basie Orchestra through Wayne Shorter and Chick Corea to John Scofield, David Sanborn and even Spyro Gyra (to say nothing of Shank's gigs with Frank Sinatra and pop idols like Luther Vandross and Linda Ronstadt).
This jazz site is part of