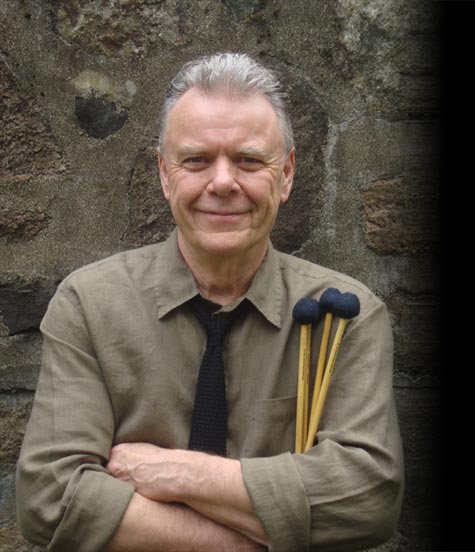 About Dave Shank
Dave's career began in Las Vegas. After serving in the Armed Forces, he obtained a Bachelor of Arts Degree in Theory and Composition at the University of Nevada. He apprenticed playing headline acts on the Las Vegas Strip and performed with local jazz groups.

In Los Angeles, when not doing sessions for Mike Post, Quincy Jones, Don Piestrup and others, or playing acts like Frank Sinatra, Dionne Warwick, Linda Ronstadt, Bette Midler and Luther Vandross, to name a few, he performed percussion duties on many Broadway shows. He could also be heard with the Dennis Dreith, Curt Berg, and Kim Richmond bands, but most prominently with Tim Weston's jazz quintet, Wishful Thinking.

He played vibraphone and composed as a principal contributor on four recording projects: Wishful Thinking and Think Again for Pausa Records; Way Down West for Pat Williams' label, Soundwings; and That Was Then for Intima, the jazz division of EMI Records.

The band toured extensively doing festivals with the Yellowjackets, John Scofield, Dave Sanborn, Spyro Gyra, Alphonse Mouzon, Billy Childs and others, as well as appearing at the prestigious North Sea Jazz Festival in The Hague, Netherlands.

When Wishful Thinking disbanded, Dave moved to New York, but took a hiatus from the jazz scene to "shed" and write. In NYC he worked extensively on Broadway; in LA he worked and continues to work as a session player on film dates for Walter Murphy at 20th Century Fox.

After being called to play a vibraphone solo on Steely Dan's Two Against Nature, he began in earnest to work on his own project, which became In Due Time, on Rhombus Records, produced by Dave along with Terry Silverlight.

His newest project, a jazz quintet album entitled Soundproof, will be released in August 2011 on the Rhombus label featuring bassist John Patitucci, Barry Miles on piano, drummer Terry Silverlight, and Mike Migliore on saxophones, produced by Tim Weston/Soul Coast Productions, and engineered by the late, great Roger Nichols.

"It's a challenging journey bouncing from one genre to another, but with this quintet record, I really feel like I've finally come home."


Press Materials
High-Resolution Images:
This jazz site is part of